SUNDOWNERS WITH
Sarah Ditty
Sarah Ditty, Policy Director at Fashion Revolution, tells us her inspirations, and talks life at the cutting edge of ethical fashion.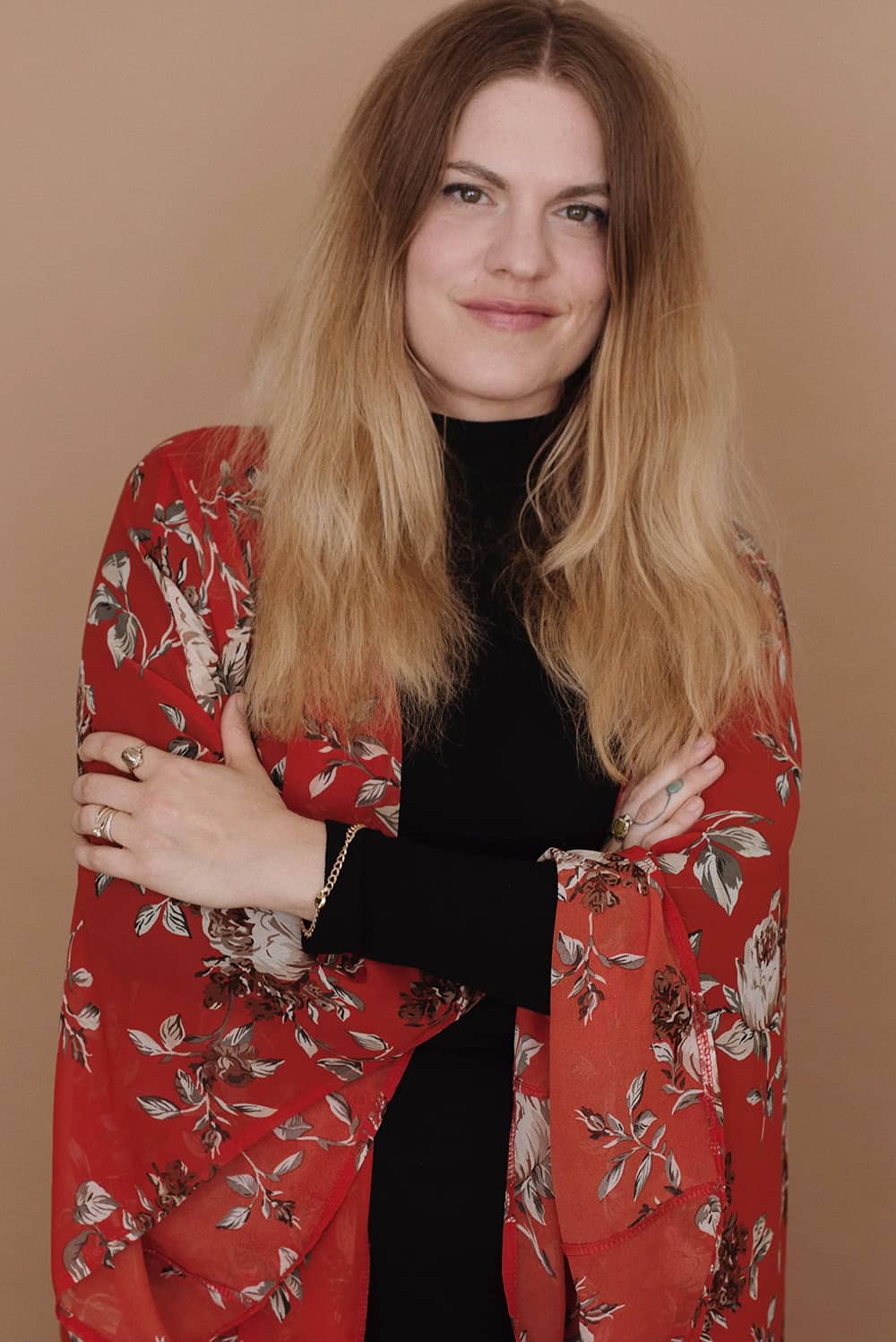 What does sustainable fashion mean to you?
I understand sustainable fashion as an holistic approach to the design, production, sale, consumption and use of clothing, accessories and footwear that conserves and restores ecosystems whilst respecting and protecting the human rights of the people who make them, enabling equitable development of their communities.
‍
Who do you think is setting a good example in leading the way in sustainability?
I think the most interesting brands really leading the way on sustainability tend to be smaller ones. I think Veja, a french footwear brand, is incredible. They just launched a pioneering new running shoe that took four years of development and is the world's first "post-petroleum" shoe. It is made using ethically-sourced wild Amazonian rubber and rice waste. The midsole is made from sugar cane and banana oil. Unparalleled dedication, research and innovation.

I also love brands that make modern use of ancient techniques such as Sibling's Army and the new knitwear brand The Endery from Peru, Studio 189 with handcrafted textiles made in Africa and NorBlack NorWhite which is completely reimagining traditional Indian textiles in the coolest way.
‍
I also love brands and designers that repurpose waste to create new clothes like Bethany Williams who creates amazing garments from actual Tesco rubbish and Kevin Germanier who spent two years inventing a way to rescue beads from landfill and turn them into the most glamorous dresses and accessories.
‍
Do you have any tips on maintaining a work/ life balance?
I am the wrong person to ask! If anyone else has good tips, please let me know.

Who/what inspires you?
I have always been hugely inspired by human rights and environmental defenders. They take incredible risks to stand up for what they believe is right and just. At the moment, I deeply admire Nazma Akter, Kalpona Akter, Saydia Gulrukh, Do Thi Minh Hanh, Karen Attiah, Alexandria Ocasio-Cortez, Rennie Eddo-Lodge, Winona Laduke, Vandana Shiva, Elizabeth Warren, Mhairi Black, Patrisse Cullors-Brignac, Kumi Naidoo and all the young people leading the climate fight right now. I think about them a lot in my working life especially and try to listen and learn from what they do.
‍
I'm inspired by a lot of other people in my personal life including my parents, my partner, my work colleagues, my friends — as cliché as that sounds. I am lucky to know so many incredible women and men, with many different histories, ideas, beliefs and talents. They bring so much to my life and lift me up. I hope I do the same for them.
‍
More generally, I am inspired by art, music, poetry, architecture, design, cuisine — crafts that people use to great effect to tell stories, ask questions and spread messages about who we are as a society. And, I'm inspired by the greatness and wonder of our natural planet.
‍
What advice would you have given yourself 5/10 years ago
Take more notice and pleasure in the small things, sometimes they matter most.
‍
Who is your style icon?
My longtime style icons are Stevie Nicks, Bianca Jagger and Anita Pallenberg. I think I just really love the early 70s era for fashion.

What are you reading and listening to right now?
I am reading Everything I Never Told You by Celeste Ng, a beautiful story about family, love, lies and race.

What has been the most exciting part of your career so far?
Two of the most exciting moments happened when I stood in front of a European Parliament plenary and the UK government's Environmental Audit Committee hearing and testified about the harmful social and environmental abuses happening in the fashion industry and what governments should be doing about it. I felt a huge responsibility to represent the voices of people who are working in exploitative, dangerous and very low paid conditions and make sure that lawmakers were aware of what injustices they are facing in order to clothe us and how this needs to change.
‍
At Fashion Revolution, our biggest achievement to date has literally been sparking a global movement of people who want to see this industry change and are willing to take steps to make transformative change a reality. Millions of people all over the world have got involved in Fashion Revolution since 2013, whether that is by attending an event, watching a video, listening to our podcast, reading our zines or emailing their favourites brands with questions about their practices. True people power! My hope for the future is that more and more citizens and consumers will speak out and take both individual and collective action to create a more sustainable and ethical future for fashion.
‍
Which designers/ artists are currently on your radar?
‍I live near the William Morris Gallery in London which is brilliant. There was a Madge Gill exhibition on until recently, which was incredibly inspiring. I first discovered her work at the Museum of Everything back in 2010/11. She was completely self-taught and genius, one of the first artists to be considered "outsider art." She claimed to be possessed by a spirit-guide she called Myrninerest and compelled her to write, draw, knit, crochet and weave textiles into the most stunning, enigmatic pieces of art. At her home, she conducted séances and drew horoscopes. The next exhibition looks at the relationship between William Morris and the Bauhaus movement. Can't wait!
‍
What was the most memorable place you've travelled to?
The Yucatan peninsula in Mexico has been one of my most favourite holidays. Visiting ancient Mayan ruins and learning about this important piece of history, the culture, clothing and rituals. The magical biospheres unlike anywhere else, the lush forests and the underground caves, known as cenotes, with crystal clear water are just so special. I bought a hammock from a weaver on the side of the road. Hammock making is a local tradition going back 700 years. And of course, the food! Sopa de lima, cochinita pibil, marquesitas and micheladas. Yum.
‍
‍What is your favourite CC item?
‍So tough to choose, this collection is so gorgeous! The Gabriella dress in Army Green is absolutely lush, that's probably my personal favourite. But I do love all the batiks and love the gauzy cotton featured this season.
‍